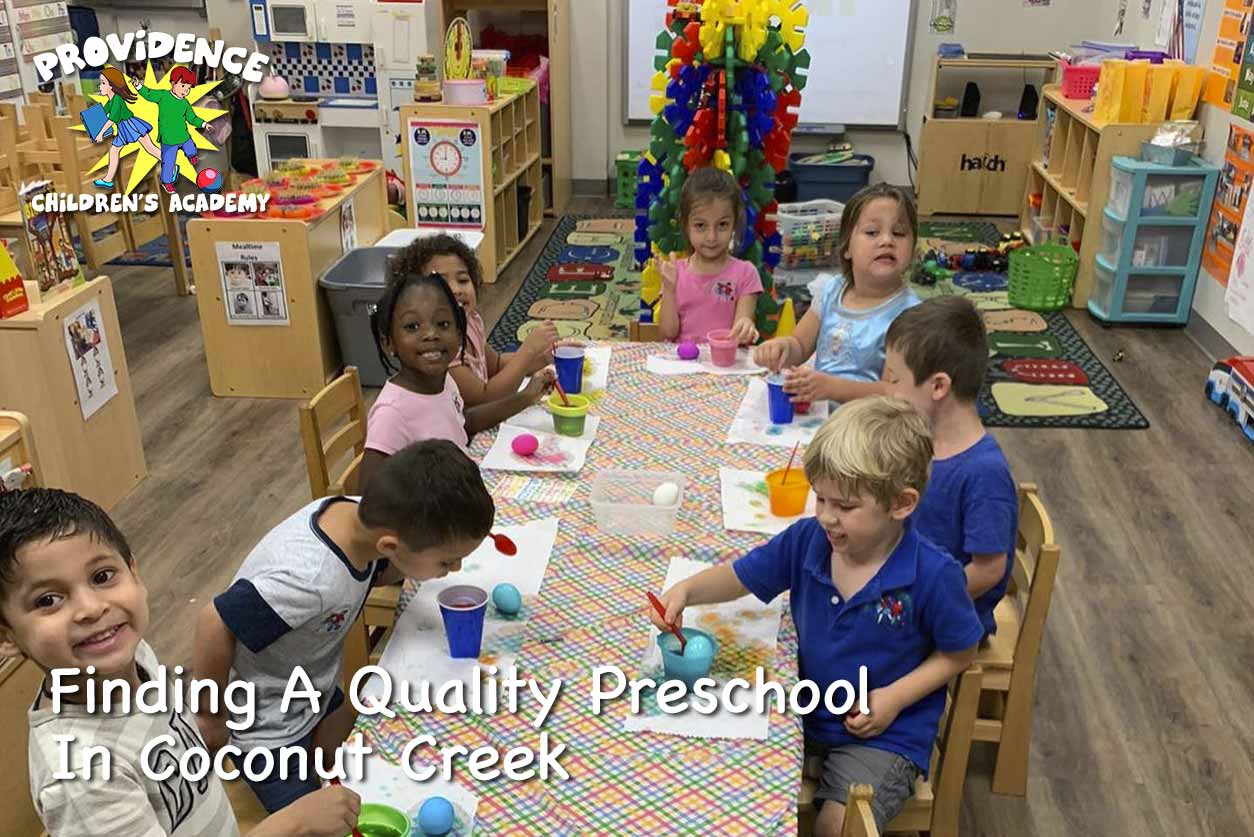 There are many things to consider when choosing a preschool for your little one. As a parent you want to know that they will be safe, happy, and learning in an environment that is both caring and stimulating.
At Providence Children's Academy, we take care of the A to Z's of early childhood education. If you are looking for a quality preschool in Coconut Creek, here are 24 great reasons to enroll your child at Providence Children's Academy.
A – Activities
All our activities are carefully developed to be both fun and educational, making learning exciting and accessible for all children.
B – Busy Work Schedule? No Problem
We get it, life requires much from you. We provide before and after school care hours.
C – Cleanliness
Work and fun should happen in a clean space. A professional cleaning service cleans our classrooms weekly, while toys and equipment are sanitized every day.
D – Dedicated Learning Areas
Each classroom has specific space set apart for math, writing, science, cozy corner reading, blocks, art, blocks and dramatic play to create an exciting learning space for your child.
E – Equipped for Emergencies
Should an emergency ever arise, our staff members are trained to follow emergency procedures to ensure that your child is kept safe. We also have a fully integrated intercom system.
F – Family Owned and Operated
As a family owned and operated preschool, Providence Children's Academy offers a caring atmosphere that creates a safe space for your child to grow and thrive in all the different aspects they'll need for life.
Family involvement is important. With this in mind, we host a variety of events throughout the year, including science and book fairs, graduation, and graduation fairs.
H – Healthy Lifestyle
Lifelong healthy lifestyles are cultivated in a physically active childhood. For this purpose, we have bikes available in the playground. We also offer swimming lessons. Swimming encourages a love of exercise and is also an essential safety skill.
I – Individual Attention
We believe that giving each child their fair share of individual attention is beneficial to learning and plan our class sizes to allow for this.
J – Jabbering to Conversation: Preschool Language Skills
Good language skills affect relationships, successful schooling and every aspect of life. Developing language skills is a key focus at Providence Children's Academy.
K – Kid-Friendly Learning Approach
Kids learn best by doing. Our activities are designed for an interactive, hands-on, learning approach that will make each task exciting and memorable.
L – Learning Types
Children learn in different ways. At Providence Children's Academy, we use various teaching methods so that we can accommodate children of all learning types.
M – Motor Skills
Our lessons and activities are designed to develop both fine, and gross, motor skills.
N – Nutritious Food
The meals we provide are nutritious and healthy. You can check out the menu for each month online. We can accommodate any specific food allergies your child may have.
O – Outside Play
Playing outside has never been safer. We've installed toxin-free antibacterial rubber playground covering. The rubber mat provides a soft surface for safe playing, too.
P – Playtime!
Playtime offers as many learning opportunities as structured lessons, including the chance to practice vital social skills such as conversation, sharing, and caring for others.
Q – Qualified Staff
Our teachers are both highly qualified and experienced. Staff members are trained in CPR and First Aid to keep your children safe. All our staff are kind and caring to ensure your child feels at home.
R – Reading
Reading is encouraged, even in pre-readers. We set up cozy corners to instill the love of books and words from a young age.
S – Summer Camp Classes
Our summer camp classes are kept small allowing for maximum teacher-child engagement.
T – Transport
We offer safe and reliable bus transportation.
U – Under 2's
Under 2's get daily reports to parents that cover all the important things a parent needs to know about their child's day.
V – VPK Voluntary Prekindergarten
We provide the FREE government funded service for four to five-year olds.
W – Webcam Access for Parents
We offer webcam access for parents in case you want to check up on your child from work or while you are out and about.
X – X-factor In A Preschool? We Have It!
X-factor is defined as a noteworthy special quality, something that sets an organization apart. We have gone to great lengths to make Providence Children's Academy a warm, loving, learning experience for your child that will bring out the best in them, and give them a solid foundation for the rest of their school careers and beyond.
Y – You!
You are most welcome to come and take a tour of the facilities, meet us, and see firsthand what we have to offer. We keep parents updated on their child's progress through parent conferences and individual portfolio assessments.
Z – Zzz's: Nap Times and Beyond
Rest times are vital for busy children, but we also accommodate those who are outgrowing their naptime with quiet time activities. We'd love to welcome you and your child to the Providence Children's Academy family. Book your tour and come see what sets us apart from the rest!