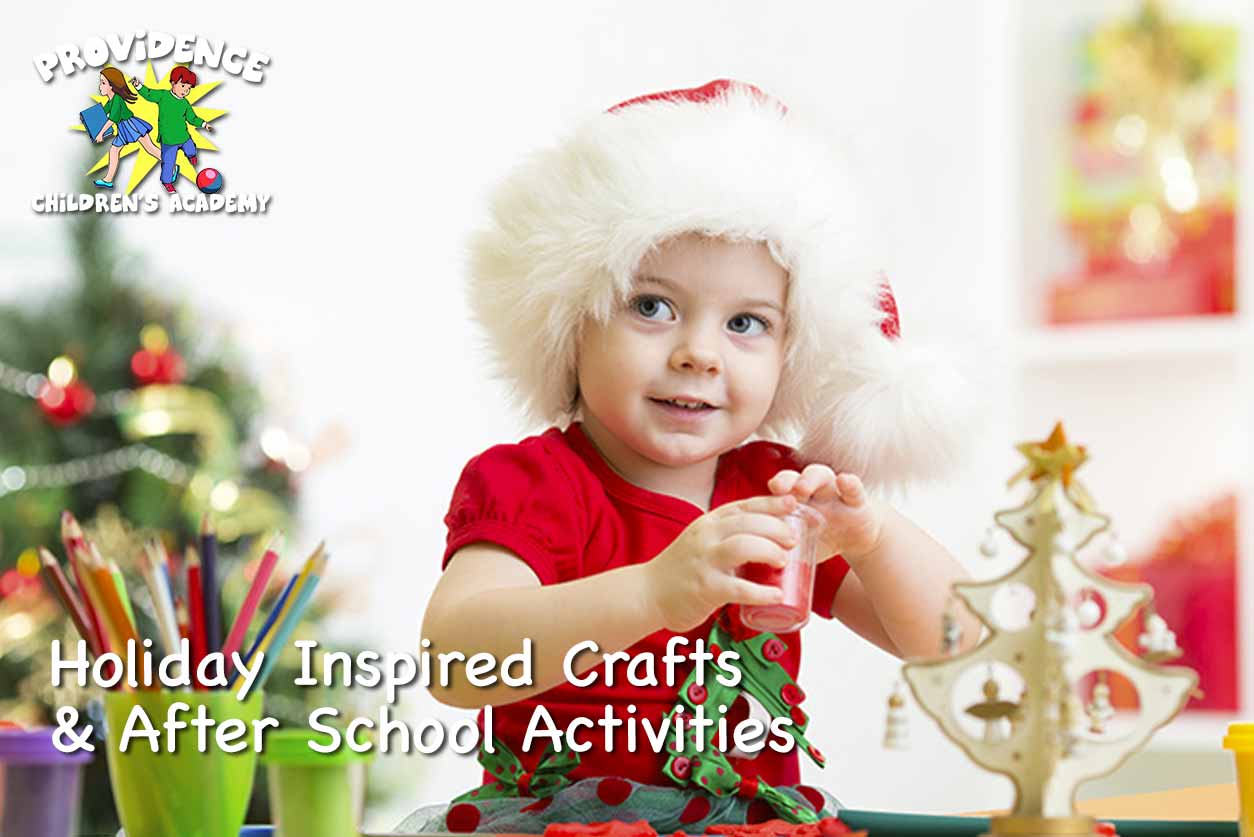 The festive season is upon us and what better way to get your kids excited than to have them create their own holiday crafts to display in your home. Craft time is an important after school activity to get your children to think creatively and enjoy themselves while still feeling like they've made something special.
Whether you're celebrating Christmas or Hannakuh this festive season, we've put together some special holiday craft ideas that children can do at their after school program, or at home with you!
Felt Candy Swirl Lollipop
Felt candy swirl lollipops are a great way to get your kids excited about the holidays without compromising on the health of their teeth!
What You Need:
Craft felt
Glue gun
Lollipop sticks
Ribbon
Steps:
Choose three colors of felt and cut three strips that are equal in length and about 1" inch wide.


Layer each strip of felt on top of each other using a glue gun (parents and teachers need to supervise for this step!)


Slowly roll up the layered felt and add a drop of glue every 3" inches to keep it rolled tightly. Finish off by trimming the ends and gluing down all three layers of felt.


Finally, to create your felt candy lollipop, glue your lollipop stick to the bottom of the felt candy swirl and tie a ribbon into a cute bow on the top of the stick to finish it off.
Paper Plate Christmas Elf
Christmas elves are a big part of the holiday season and a fun way to get children to listen to their parents (elves will tell Santa if you've been acting naughty!).
What You Need:
Small paper plate
Cotton balls
Green, white and yellow cardstock paper
Red circle sticker
Googly eyes
Black marker
Scissors
Glue
Steps:
Start by cutting out a triangle out of your green cardstock paper to make the elf hat. Fold-down the tip of the triangle to make it look like a floppy Santa hat.


Use your yellow cardstock paper for the elf hair. You can choose to shape the elf hair differently depending on whether you're making a boy or girl elf. For boy elf hair, you can cut the cardstock paper into a semi-circle and then cut small triangles along the straight half of the semi-circle.


Next, you are going to want to use your white cardstock paper for the elf ears. Cut two elf ears and glue them to the sides of your plate.


To put everything together, take your paper plate and glue the elf hair at the top of your plate and then glue the bottom of the hat to the hair.


Glue four cotton balls in a line where the top of the elf hair and bottom of the hat meet and then glue one more cotton ball to hang off the end of the hat.


To create your elf face, glue on the googly eyes and red circle sticker for the nose. Finally, you can use your black marker to draw a big smile.
Star Of David Wall Art
This holiday craft is easy to make and an excellent way to get your kids excited to learn about Hannukah!
What You Need:
Paper plate
Glitter
Glue
Hole punch
Scissors
Yarn
Steps:
Start by punching a small hole in the center of your plate. Then take a pair of scissors and cut out a donut-shaped hole in the middle of your plate.


To decorate your plate, brush the plate with glue and sprinkle your glitter all over and set aside for it to dry.


Using your hole punch, punch 6 holes along the inside of your paper plate, spacing them out evenly about 3" apart.


To create the Star of David using your yarn, tie a knot in one of the holes. Then begin threading your yarn through every second hole to create two triangle shapes to form the Star of David.


Once you have finished creating the Star of David shape inside your plate, you can use the rest of the yarn to create a loop for hanging.
Cardboard Hannukah Menorah
Here's a holiday craft the whole family can enjoy without having to run out to the store for supplies!
What You Need
11 toilet paper tubes
Glitter
Glue
Scissors
Pencil
Steps:
Draw a burning candle on one of your toilet paper tubes and cut it out to use as a stencil for the rest of your candles to make sure they all look identical.


Trace on the candle using your cut out stencil on 9 of the toilet paper tubes.


Cut out space around the candle on all 9 of the drawn on tubes.


Add glue to the flame area and sprinkle yellow glitter over it to make it look like a candle flame.


Finally, choose one candle to be the shamash middle candle, and add a piece of your last toilet paper tube to the bottom so that it will be taller than the others.


Assemble the candles side-by-side, with the tallest one in the middle, to create your Hannukah Menorah and display it in your home.
Popsicle Stick Snowflakes
This holiday craft idea means you can make your white Christmas dreams come true no matter where you live!
What You Need
Popsicles sticks
Tacky glue
Glue gun
Glitter
Paint
Thread
Steps:
The first step is to decorate your popsicle sticks. You can choose to paint them in any color you like! Or you can put glue onto your sticks and sprinkle glitter over them.


Next, you will need to use your glue gun to glue your popsicle sticks together to form your snowflake. Take four popsicles ticks and form two crosses to create your snowflake.


Lastly, all that's left is decorating your snowflake! Be creative and use stickers, tinsel or pom poms.


You can then glue some thread to your snowflake decorations and hang them on your tree.
After School Activity Programs In Coconut Creek
The holidays are a special time for everyone and making crafts is a great way to teach your kids to learn about different holiday traditions, while encouraging them to be creative! You can feel confident that your children will be in a stimulating environment at the Providence Children's Academy's after school program. For more information on our program, give us a call on 954-570-6914.