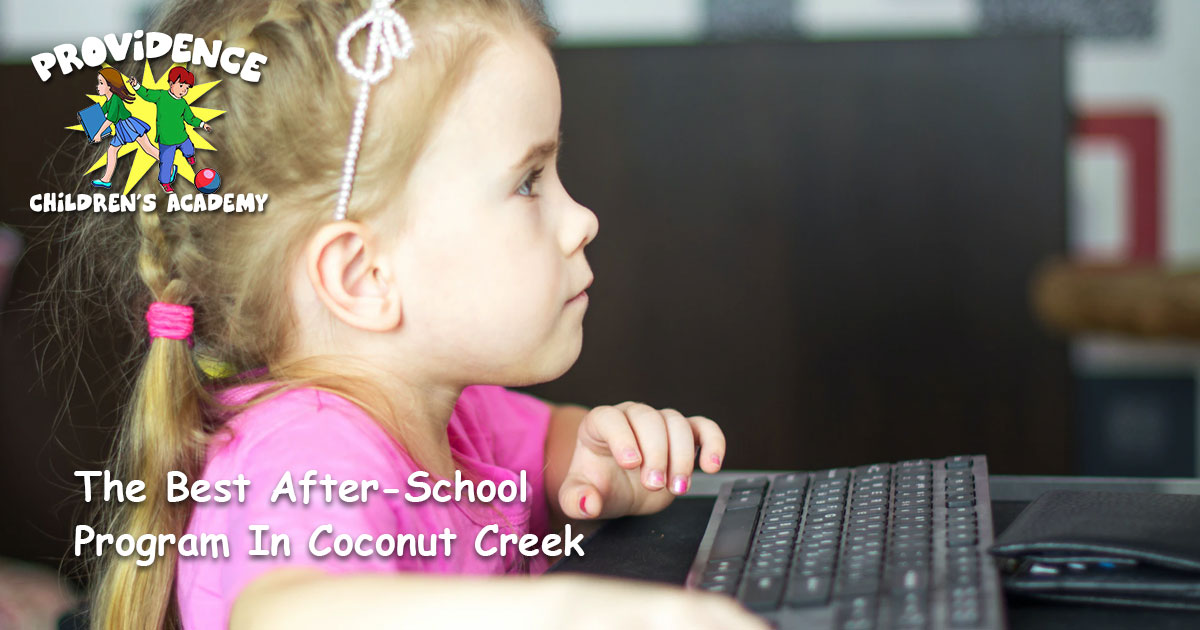 An after-school program should offer children the opportunity to continue learning in a fun and exciting way. Having been formally learning throughout the day, an after-school program is more about further extending their education without demanding too much from them. The best after school programs achieve this by including creative and fun activities that either allow children to burn off excess energy, or include something hands-on like creating artwork. At Providence Children's Academy, we believe in offering a holistic approach to development and this reflects in our after-school program. Activities should focus on physical, emotional and social wellbeing.
What Does An After-School Program Entail?
At Providence Children's Academy we have developed our after-school program in the best interests of your children. There are a few core elements that make our program one of the best in the Coconut Creek area. A quality after school program should include opportunities for children to learn and to enjoy themselves. They should feel supported in their social development and know that they are in a safe place. Having activities that get them moving, but also give them a chance to explore their own creativity in a quiet manner is equally important.
Dedicated Staff

Passionate staff are what makes an after-school program like this, successful. Our staff are able to give your child individualized attention and are dedicated to their needs. Our staff ensure a safe, fun, and stimulating environment. We have a key focus on the development of your child both academically and in other areas where they may require guidance.

Extra-curricular Activities

Extra-curricular activities beyond school hours shouldn't just be all work and no fun. We've developed our program to ensure that while your child learns, they are also enjoying themselves while doing it.

Snack Time

Children that are hungry struggle to learn. We've included snack time at our after-school program that included healthy snacks carefully selected by a dietitian to ensure that your children get the best nutrition. If your child has any specific dietary requirements or allergens, we'll accommodate them as per your requests.

Open Lines Of Communication

Communicating openly with parents, on a daily basis ensures that there is clear understanding between the needs of the student and actions taken by us as an after-school program. This can easily be done via our web page or our mobile application. Besides this, we hold regular one-on-one conversations regarding your child's development and progress. Should there ever be a need to get in contact with us, we're always available to answer your questions and concerns.

Assistance With Homework

One of the main benefits for parents in enrolling their students in an after-school program is that there is time for qualified teachers and careers to assist your children with their homework. Not all students learn the same way and we believe in giving them the personal attention they need to get through additional work after school.

Time For Fun

After a long day of lessons and structure, students need an opportunity to deflate and have some time to enjoy themselves. While we do believe that structure is important, we don't want students to feel like they're attending extra school lessons. We have a dedicated time for doing homework so that this is taken care of before heading home, but we also have dedicated time for enjoyment and playing. Play time plays an important role in developing emotional and social skills through interacting with different children, learning to share, and follow instructions. Children will also have the opportunity to engage in free play where they get the chance to explore creatively and develop their imagination.
After-School Programs in Coconut Creek
A good after school program requires activities that stimulate development, both academically and socially. Children need physical stimulation and mental stimulation throughout their day. They have an opportunity to socialize with other children and can do so in a safe place. If you're looking for an after school program in Coconut Creek get in touch with Providence Children's Academy. It's important to us that your child feels safe, comfortable, enjoys themselves after a long day of school, and gets the support they need.